Our New Pavilion
Last month we saw the newest addition to the Montcalm County Fairgrounds. This pavilion was the result of a generous anonymous donation and the hard work done by members of Montcalm County Horse Leaders.
The structures main purpose will be to serve as an escape from the weather, as well as hosting events. The pavilion is handicap accessible and provides electrical outlets to fairground patrons. Along with these features the pavilion will also provide a shaded area to view events as well as tables for eating. It is expected to be a highly beneficial addition to the fairgrounds.
This is just one example of what has been achieved on the fairgrounds through volunteer efforts. The Montcalm County Horse Leaders should be commended for the dedication and pride they have displayed through their efforts on the fairgrounds.
On behalf of the Montcalm County Fair Association we say thank you to the Montcalm County Horse Leaders for this and all they have done.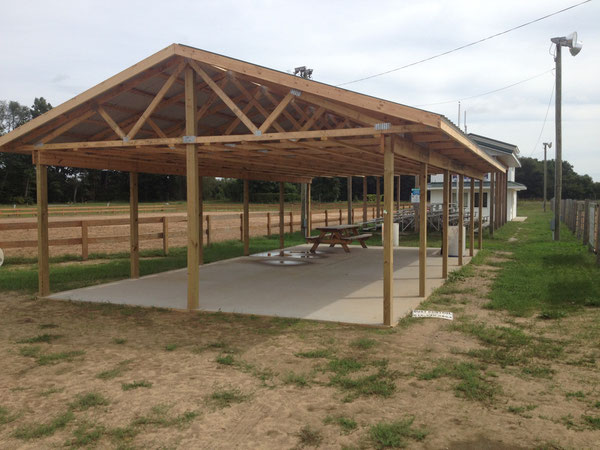 Potential Changes To Our Bylaws
Any interested fair association members can now access the proposed changes to our bylaws right here. There will be a vote on these changes at our annual meeting coming up on October 27th. In order to view these changes click on the image below. We look forward to seeing you at the meeting.
Annual Fair Association Meeting
Our annual Fair Association meeting will be taking place on Tuesday October 27th. We will be having a potluck dinner beginning at 6:30. Meat and drink will be provided. Guest are encouraged to bring a dish to pass. Official meeting start time is at 7:30. All association members are welcomed to join us. We will be discussing the progress we've made on the fairgrounds, this years fair successes, as well as our goals for the following year. By attending this meeting you will have an opportunity to vote on fair board members and also will be able to aid us in updating our membership database, which will allow us to stay in contact with you our valued Fair Association members. We hope to see you there!
Fair Association Membership
We Are Seeking Volunteers to Help Maintain the Montcalm County Fairgrounds
We are currently in need of assistance in maintaining our fairgrounds. In order to do this we will need volunteers who would be willing to chip in with a variety of projects including: lawn mowing, spreading mulch, and other general landscaping projects. All volunteers will be trained in the project they would like to assist in. If you are interested in volunteering click here to fill out our volunteer form. Feel free to include what you would be interested in helping us with, as well as any another supplementary info we may need about what you can offer us. Thank you all for you help!
Make The Match For Our County
Love 4-H? Interested in helping ensure that we can continue to put on great 4-H events? Well the Michigan 4-H Foundation is helping out by matching donor's donations. Through the County 4-H Endowment Match Campaign supporters of county fairs can now double their support by making a donation to the Make The Match For Our County Campaign. To find out more about this and other 4-H campaigns in our area use the link below.  
Fair Association Grounds Rentals
Planning an event but lacking on space? Well we may have a solution for you. There are a variety of rental options available through the Montcalm County Fair Association. Choose from any of our beautiful facilities, including the Ash building or one of our outbuildings. Whether you are planning a corporate event, wedding reception or even a horse show. We have a variety of options available to suit your needs. For more information on rentals please click on the link below.
Post Fair Update
Thanks to all attendees, donors, sponsors and other supporters that made it out to this years fair. We had a lot of fun celebrating our 80th year with all of you. This was an exciting year for us. It marked the 12th year of our Kids Day Expo, which was a huge success with over 1200 individuals joining us for the event. We also saw the addition of the brand new TSC activity tent, another hit among fairgoers. Along with all this we also had a great turnout for all of the other great 4-H events. None of this would have been possible without the support of all of you.     
2015 Montcalm County 4-H Fair Flyer Cover Contest Winner!
We are pleased to announce the winner of the 2015 Montcalm County 4-H Fair Flyer Contest!  Thank you for all of the great entries for this contest, look for all of the entries to be posted in the Ash Building during fair!
Congratulations Emily Portell from Greenville High School for submitting the winning entry!
2015 Fair Sponsors